Kirklees Citizens Advice & Law Centre offers assistance to members of the public via our contact centres in Dewsbury and Huddersfield – you can see our opening times on our Contact Us page. Everyone calling in has the opportunity to access information to help them to resolve their issue.
Staff and volunteers are available to help and guide people through their options. If more advice is needed then a range of options are available including a face to face appointment with an adviser, a telephone call back or a referral to another service.
We are pleased to work in partnership with various other local agencies to deliver our services.
This website was funded by Yorkshire Legal Support Trust.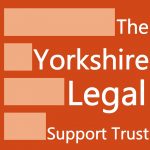 Using Our Services
Our staff and volunteers have the right to be treated with dignity and respect at all times.
They should be able to do their jobs without being physically or verbally abused.
We will not tolerate clients who use racist, sexist, homophobic, abusive or oppressive language.
Anyone who threatens staff, volunteers or other clients will be asked to leave our premises. This behaviour may mean that we will refuse to advise you in the future.
Governance
Kirklees Citizens Advice and Law Centre is a company limited by guarantee and a charity. Information about the charity, copies of accounts and details about the trustees can be found on the Charity Commission website.
The charity is governed by a Board of Trustees who are all volunteers and are responsible for ensuring that the resources are used correctly and to provide the best possible service for clients.
Further Information
You can find further information about Kirklees Citizens Advice & Law Centre by choosing from the following options: