Kirklees Citizens Advice & Law Centre offers assistance to members of the public via our contact centres in Dewsbury and Huddersfield. They are open from 9:30am to 3pm every weekday and operate on a drop-in basis. Everyone calling in has the opportunity to access information to help them to resolve their issue.
Staff and volunteers are available to help and guide people through their options. If more advice is needed then a range of options are available including a face to face appointment with an adviser, a telephone call back or a referral to another service.
We also offer a service in a number of outreach locations located in the premises of other organisations. Staff employed at these locations will help connect potential clients to our service and an adviser can arrange a call back and/or face to face advice at the outreach.
We are pleased to work in partnership with various other local agencies to deliver our services.
This website was funded by Yorkshire Legal Support Trust.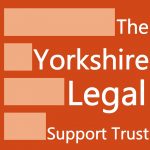 Governance
Kirklees Citizens Advice and Law Centre is a company limited by guarantee and a charity. Information about the charity, copies of accounts and details about the trustees can be found on the Charity Commission website.
The charity is governed by a Board of Trustees who are all volunteers and are responsible for ensuring that the resources are used correctly and to provide the best possible service for clients.
Further Information
You can find further information about Kirklees Citizens Advice & Law Centre by choosing from the following options: