If you have a query about your employment you can call our Employment Helpline on 01924 868147, open Thursday and Friday. You can also call our generalist adviceline on 0808 278 7896.
If we cannot answer the Helpline immediately you can leave a message – please note that this line will NOT accept text messages. We can advise you on your legal rights about your job but NOT about any benefits to which you may be entitled. Kirklees residents only.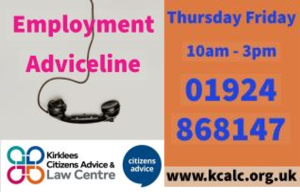 We are able to provide a specialist telephone advice service for people in Kirklees with employment issues. We cannot advise employers or people who are self-employed.
We are limited in the casework support we can offer to clients but our advice can assist you to prepare your own cases or to make the decision that it is not appropriate to proceed further.
Our direct Telephone Helpline for residents of Kirklees is 01924 868147. This is open on Thursday and Friday from 10.00 to 16.00. If the line is busy there is a facility to leave a message. Someone will return your call as soon as possible. We aim to reply within five working days. Please do not attempt to send text messages on this number.
We can advise you regarding settlement agreements. Our other advice is a free service but where the employer needs you to take independent advice on a settlement agreement they would normally be expected to pay us to do this for you. We will never charge you for this advice or any other employment advice but we do not give detailed advice on settlement agreements unless the employer is willing to pay our fee for providing it. Please contact us if you want to discuss this further.
You may be able to resolve your issue by using this free information.
If you have issues about your pay then you may be able to get information about your situation via a free website My Pay for Londoners. The information on this site is also relevant to employees in Kirklees.
Did you pay a fee to take a case to an employment tribunal ? If you did then your fee can be refunded. It is easy to make a claim online for this. Click this link to the electronic form and complete the details requested.
Further Information
Other organisations which may be able to help are: